Saya penyuka drama Korea, itu tak usah diragukan lagi. Tapi saya gak terlalu suka K-Pop, penikmat cowok gantengnya aja sik, lagunya gak gitu :p
Satu lagi, saya suka variety show Korea. Ya paling suka Running Man, kalo udah ketinggalan 1 episode aja rasanya gimanaaa gitu, berasa kurang hiburan lah saya
Ternyata, variety show The Return of Superman juga menarik. Gak terlalu seru sih kayak RM tapi yang ini lebih kerasa 'belajar jadi orangtua'nya.
Saya akui dan saya sadar bahwa menjadi orangtua itu suatu pembelajaran seumur hidup. Setidaknya sebagai orangtua, kita banyak belajar entah itu dari orangtua kita, dari buku, seminar parenting atau juga tontonan. Gak semua yang kita baca di buku parenting dan seminar parenting mampu kita terapkan pada anak. Karena itu setiap orangtua punya caranya sendiri dalam bagaimana mendidik anaknya.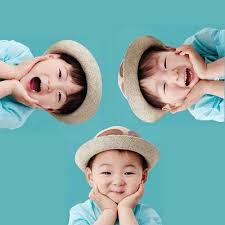 The Return of Superman yang paling saya suka ya pastinya triplet alias kembar tiga cowo anaknya Song Il Gook yaitu Daehan, Minguk dan Manse. Si kembar tiga ini lucuuuu banget. Selain itu mereka ini anak yang manis walau ya mereka tetap anak-anak yang kadang bertingkah macem-macem. Superman lah si ayahnya. Il Gook adalah ayah hebat yang mampu gendong kembar tiga ini sekaligus dan yang pasti saya suka parenting style-nya.