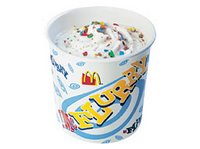 Setelah semalem makan es krim lagi, biasa McFlurry with smarties. Eh, hari ini waktu timbul males dan panas banget ruangan (smg cpt pindah ruangan deh) dan sedikit denger cerita hati dari seseorang yg lagi bingung, (dan setelah cerita, justru aku yg malah jadi bingung, msh seperti itu ternyata) jalan-jalan dan nyangkut di salah satu blognya Pak Ardi, dan liat quiz….
Your Icecream Flavour is…
Chocolate!
You are the all time favorite, chocolate! Turning white kids black since the 1800s. Staining carpets, car seats, and bed sheets for centuries. One thing is for sure, you will never go out of style. You can't go wrong with chocolate!
Find out at Go Quiz

Sip, pinter… suka bgt sama es krim rasa coklat….
:)