Forum Tata Kelola Internet Indonesia, ngomongin apa aja sih?
Kamis, 1 November 2012, Asosiasi Penyelenggara Jasa Internet Indonesia (APJII) menyelenggarakan Forum Tata Kelola Internet Indonesia atau Indonesia Internet Governance Forum (ID-IGF) untuk pertama kali di Hotel Borobudur, Jakarta.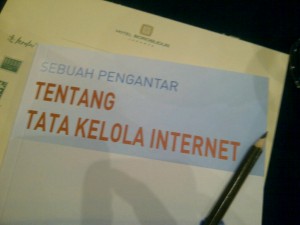 Kalo kita liat dari namanya, forum ini jelas keliatan seperti obrolannya para petinggi saja yang ngomongin gimana mengelola internet di Indonesia. Tapi ternyata gak begitu, para pemangku kepentingan (multi-stakeholder) semua hadir dalam acara itu, baik dari pemerintah, swasta/bisnis dan juga civil society. Saya dan beberapa blogger lainnya dari berbagai kota di Indonesia turut hadir dan menyimak semua yang disampaikan dalam diskusi di acara tersebut.
Sebenarnya ada 5 keranjang Tata Kelola Internet Indonesia yaitu meliputi bidang Hukum, Sosial Budaya, Pembangunan, Infrastruktur dan Standarisasi serta Ekonomi. Tadinya ID-IGF ini akan ngomongin ke semua bidang ini dalam 3 hari pertemuan, tapi ternyata harus dipadatkan menjadi 1 hari untuk ngomongin Hukum, Sosial Budaya dan Pembangunan.
Di keranjang Hukum lebih khusus diomongin soal Cyberlaw and Sovereignty, yang ikut ngomong ada dari Kemkominfo, Kemhumham, Detiknas, Pandi, BRTI, UI dan juga APJII. Ya, yang dibahas soal hukum, kebanyakan peraturan kali ya kita di Indonesia ini :D
Keranjang Sosial Budaya ngomongin Internet and Right to Information, yang ngomong mulai ada dari Kemkominfo, Arus Pelangi, Koalisi Perempuan, ELSAM, AJI, APTIKOM. Sesi ini yang seru menurut saya karena mungkin bersinggungan banget sama blogger dan tentang kebebasan berekspresinya.
Terakhir keranjang Pembangunan soal Enabling Environment to Address Development Problems. Sesi ini udah sesi akhir, yang ngomong juga kaitannya sama pembangunan yaitu dari Kemkominfo, BP3TI, BPPT, FTII, Biznet, Mastel dan Satu Dunia.