Kalo kamu lagi hunting mobil keluarga yang oke? Cobain deh All New Ertiga!
Jadi ceritanya kami lagi nyari-nyari nih mobil buat keluarga yang cocok. Ya cocok semuanya, cocok desainnya buat keluarga, agak tinggi biar bisa dibawa mudik dan cocok dikantong

Pas banget Sabtu, 26 Mei 2018 kemarin di Palembang Indah Mall, bisa ngecek langsung mobil All New Ertiga yang katanya cucok banget buat keluarga. Ya jadi All New Ertiga baru aja launching sabtu lalu di Palembang. Gak cuma Palembang sih, Sumatera Selatan tepatnya, karena ada 3 kota lainnya yang juga ikut launching All New Ertiga hari itu, yaitu Lahat, Baturaja dan Lubuk Linggau.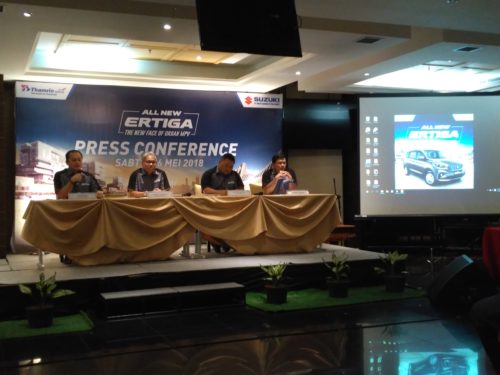 Mengusung slogan The New Face of Urban MPV, All New Ertiga memang menjadi pembaharuan setelah versi terdahulunya keluar di tahun 2012 lalu. Tahun 2018 atau 6 tahun sejak saat itu, Suzuki mengeluarkan versi All New Ertiga yang lebih ciamik. Kenapa lebih ciamik? Karena memang lebih oke. Jika versi lama 1400cc, All New Ertiga sudah 1500cc. Desain mobilnya jelas lebih oke dari versi lama, lebih panjang, lebih lebar, lebih tinggi tapi lebih enteng daripada versi lama. Gak cuma desain luar yang lebih oke, tapi desain interiornya pun lebih oke, kerasa lebih mewah aja gitu, padahal bisa dibilang All New Ertiga ini masuk di kategori low MPV (Multi Purpose Vehicle).