Lagi. Ngomongin etika.
Namanya juga forum ya, isinya memang ngomong dan diskusi. Kali ini Bali Media Forum (BMF) mengambil tema Ethical Journalism and Citizen Media: Giving People a Voice in Support of Democracy. Acara ini masuk dalam rangkaian acara Bali Democracy Forum yang diselenggarakan di Nusa Dua, Bali 7-9 November 2012 oleh Dewan Pers didukung oleh Thomson Foundation dan Institute of Peace and Democracy.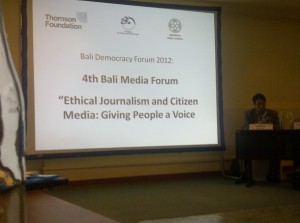 Yang hadir dalam BMF ke 4 tahun ini yaitu perwakilan dewan pers, jurnalis dan media dari berbagai negara ditambah dengan para blogger Indonesia, termasuk saya dan beberapa teman lain. Baru kali ini sepertinya BMF mengundang para blogger dan dari social media, karena sesuai dengan tema yang diangkat.
Dalam 2 hari BDF diisi dengan sharing dari para perwakilan berbagai negara, baik dari dewan pers ataupun media dan dari jurnalis tentang bagaimana situasi terkait media dan jurnalisme di negaranya masing-masing baik itu media mainstream juga social medianya. Menarik mendengar banyak cerita dari Malaysia, Philipina, Vietnam, Thailand, Myanmar, Srilanka, Australia, Pakistan, China, Norwegia hingga Timor Leste.
Walau kebanyakan pada ngomongin dewan pers di negara masing-masing, ada yang udah terbentuk ada juga yang baru akan dibentuk, yang paling menarik adalah bagaimana diceritain juga bahwa media warga juga social media telah menjadi media alternatif yang banyak digunakan saat ini. Malaysia misalnya dengan MalaysiaKini dan kita juga sempet diliatin video percakapan dengan Malala, blogger yang hampir tertembak mati oleh Taliban.
Diskusi ini ngomongin etika jurnalisme, gak jauh dari ranahnya dewan pers dan kaitan besarnya dengan media dan para jurnalisnya. Saya memang buka njurnalis, tapi forum semacam ini sama aja kayak grup diskusi yang saya ikuti beberapa kali, bedanya hanya, ini forum internasional alias kita gak cuma dengerin Indonesia dan berbagai daerahnya tapi lebih luas, banyak negara lainnya.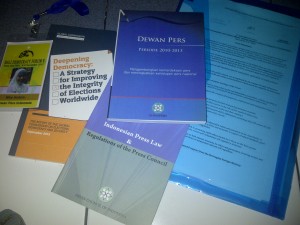 Gak cuma ngomongin etika jurnalisme tapi juga ngomongin etika media warga, yaitu bagaimana harusnya ada etika para blogger dan netizen di ranah maya ini. Bisa liat di final statement BMF ini, bahwa lagi-lagi diminta adanya standar etika.
Debating the challenges to self-regulation with the increasing importance of on-line and social media, the Forum agreed that professional journalists and on-line media posting on the internet or twitter should apply the same ethical standards as journalists in established off-line media.

But other questions remain: What standards should be applied to bloggers, who are not journalists? How can we ensure that journalists using on-line and social media as sources for reporting apply high standards of ethics and verifying information?

In addressing these challenges the Forum agrees that there should be more practical ethics training for journalists, bloggers and media managers of both off-line and online media.
Pak Bambang Harymurti, ketua Dewan Pers Indonesia dan juga CEO Tempo, mengatakan bagi para blogger, cuma ada 2 pilihan yaitu jika mau dilindungi oleh dewan pers silakan masuk ke asosiasi pers jika tidak ya berarti memilih untuk menjadi pejuang kebebasan berekspresi saja. Pilihan yang sulit ya, apalagi gak gampang jadi jurnalis nanti malah jadi jurnalis abal-abal.
Etika penting sih, tapi guide yang udah dibikin pas FGD 2011 lalu rasanya udah cukup. Tinggal disosialisasikan lebih lanjut, semakin banyak yang tahu akan semakin baik, untuk Indonesia. Untuk negara lain semacam Vietnam misalnya, apa gak perjuangkan kebebasan berkekspresi aja dulu ya?