Lagi. Ngomongin etika.
Namanya juga forum ya, isinya memang ngomong dan diskusi. Kali ini Bali Media Forum (BMF) mengambil tema Ethical Journalism and Citizen Media: Giving People a Voice in Support of Democracy. Acara ini masuk dalam rangkaian acara Bali Democracy Forum yang diselenggarakan di Nusa Dua, Bali 7-9 November 2012 oleh Dewan Pers didukung oleh Thomson Foundation dan Institute of Peace and Democracy.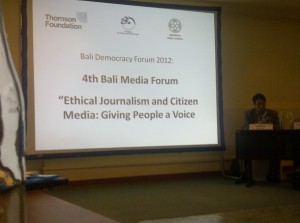 Yang hadir dalam BMF ke 4 tahun ini yaitu perwakilan dewan pers, jurnalis dan media dari berbagai negara ditambah dengan para blogger Indonesia, termasuk saya dan beberapa teman lain. Baru kali ini sepertinya BMF mengundang para blogger dan dari social media, karena sesuai dengan tema yang diangkat.
Dalam 2 hari BDF diisi dengan sharing dari para perwakilan berbagai negara, baik dari dewan pers ataupun media dan dari jurnalis tentang bagaimana situasi terkait media dan jurnalisme di negaranya masing-masing baik itu media mainstream juga social medianya. Menarik mendengar banyak cerita dari Malaysia, Philipina, Vietnam, Thailand, Myanmar, Srilanka, Australia, Pakistan, China, Norwegia hingga Timor Leste.